Guest Post by Elise Adams, Certified Book Ninja Coach
As Book Ninjas we love writing, words and how it all comes together in a beautiful book. Possibly the strangest truth about getting your book seen, read and shared, however, is that a picture is still worth a thousand words. So how is a wordsmith to make the best use of pictures and graphics? Maybe you know what you love when you see it, on Facebook, Instagram or even a Book Cover, but how will you create that sizzling photo-perfect graphic for your own writing?
The truth is, none of us have built the writing & publishing success we have without a lot of tips and tricks along the way. Copying the best practices of our favorite niche leaders has always been the top strategy for The Book Ninja success. So what Ninja Tricks & Tips are at the top of our list for Social Media Graphics?
#1. Keep it Simple Silly applies here too!
The worst graphics out there (I won't embarrass anyone by a show-n-tell here, you can imagine well what I am referring to) are stuffed with words, colors & so much crazy-busyness that no one is sure what the point is exactly. Choosing a theme and a super-simple lather-rinse-repeat system for putting together beautiful graphics is the most powerful foundation for impactful social media graphics.
#2. Use REAL photos to anchor your graphics
In the inspiration niche particularly–or for memoire, true-story, fiction, platform building, non-fiction of all types (get the picture?)–anchor your social media graphics with high quality photos that "pop" and connect with your readers. These days anyone "can" put together a quick stylish graphic with a smartphone app. To stand out above the rest of the noise out there online, a distinctive photo is instantly memorable.
#3.  Don't advertise, CONNECT and INSPIRE
It is very tempting for authors who've delved deep into their writing to take a deep breath and then spew forth a zillion reminders about "my book, my book, my book" rather than remembering that the content inside the book (think sneak peeks) are what readers are after. Quote your own writing but also use others quotes that resonate with your mission & message. The message is what will connect with your readers!
#4.  Make SURE you have the right licenses and permissions
Usually for shorter quotes (unless it's a music lyric or poem) you're "safe" to quote other authors or speakers. But when it comes to photos, particularly, the only way to be 100% sure that you have the right to use a photo is to purchase the correct license. Reading the "fine print" on any site you use (particularly via low-cost or free photo sites!) to put together your photo collection will save you thousands in legal fees and a ton of headaches down the road.
#5.  Be consistent, persistent and purposeful in your social media posts
Think of social media–Facebook, Twitter, Instagram, Google +, as an extension of your writing. Thinking of it as advertising or promoting avenues is missing the spirit of what is possible online these days. Think of an eager group of people who are just waiting to meet you, greet you and share your inspiring quotes and beautiful pictures.  A great social media graphic is like a handshake.  Reach out your hand often in friendship to your eager readers!
And much, much more!
Kristen is always bringing you so much more. In every training, coaching and product she over-delivers just what we need to become not just published authors, but successful, profitable authors! Today is no exception.  Rather than worry about the quality of the photos you need for connecting and inspiring your audience, open the Ninja Vault and grab up the Pathways and Portals Pack… Here's a sneak peek at just one possible use of one of the beautiful photos in this HUGE pack. (Click the photo for more!)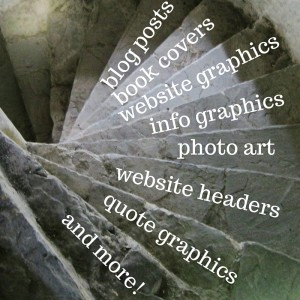 Click here to grab this pack of photos now!
Your Turn
How are you using social media to share your writing? Do you quote yourself? What about your favorite quotes or photos? Share your social media link in your comment!